About
My passion for community-based midwifery care stems from an inherited legacy of continuing the work of my ancestors, a passion for providing quality health care and informed consent, and the midwifery care I received when pregnant with my own children.
I am licensed by the Medical Board of California to provide midwifery care to healthy women having uncomplicated pregnancies. My grandmother and two great-grandmothers were traditional midwives who provided care to Mexican-American families in Texas and California. Midwifery has been a part of our family for generations and I am honored to be able to combine the traditions of the past with the evidence-based care of today.
Since 2005, I have attended hundreds of births at home, in birth centers, and in hospitals. My midwifery training began with a formal apprenticeship with local midwife, Rosanna Davis, followed by an internship and residency at Casa de Nacimiento, a high-volume birth center in El Paso, Texas. I completed the academic program at National Midwifery Institute and received my California midwifery license in 2010. I am also a Certified Professional Midwife (CPM) through the North American Registry of Midwives. I have been a leader with La Leche League for the past two years and now host a monthly support group in San Leandro. I look forward to becoming an International Board Certified Lactation Consultant in 2018.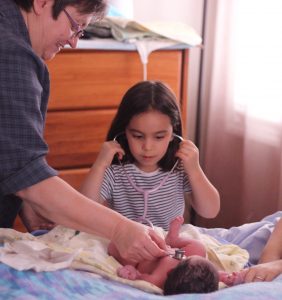 I am the mother of two daughters, both born at home in San Leandro. The challenges I faced while pregnant, birthing, and postpartum with my own children were deep and humbling, and ultimately made me a better midwife. I take pride in providing clinically competent care with compassion, patience, and a true understanding that motherhood can be more difficult (and rewarding) than anyone would expect. I could not live and work as a midwife without the support of my entire family, including my husband of 14 years, Louis, and our daughters, with whom we attempt to speak conversational Spanish and Dutch.