Bethany

Jennifer is a warm and nurturing midwife. Her knowledge, guidance, attentive ear and calm demeanor was greatly appreciated. The ease of appointments and birthing in the comfort of one's own home is priceless.
M.T.
What you have been for me throughout my pregnancy and during this first month of motherhood has been beyond what I could have expected from a midwife. You have been a source of wisdom when I had questions, a source of comfort when I was feeling afraid and overwhelmed, and a source of strength and support without which I could not have had the birth experience I had envisioned, nor would I have been able to find the strength and faith I needed to get me through the first few weeks of motherhood. You have such wonderful gifts and are a lovely, lovely person and I just cannot thank you enough for all you have done. I hope our friendship will continue as you are someone very special and dear to our hearts!
R.A.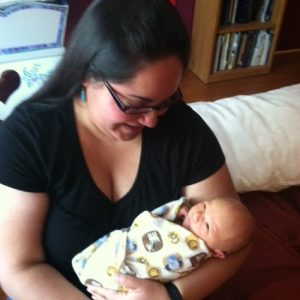 Jennifer Heystek is an amazing midwife. I had the privilege of having Jennifer attend both of my sons' births and I could not have asked for better support. I chose to work with her because I felt like she could handle whatever came up in the birth process and she did exactly that. Her calm and grounded presence created a safe space for me to do and say what I needed to. With Jennifer's support, I was fortunate enough to have two beautiful homebirths.
At my first birth, she was my doula (she was just about to become a midwife). My labor progressed very rapidly and she arrived at my home before the midwives. I was just starting to panic because my labor had intensified so quickly and I was running out of resources. As soon as Jennifer arrived everything relaxed. Just having her there made all the difference. I don't remember exactly what she said or did but I felt her faith in me and in the birth process. That gave me the confidence I needed to let go and let things happen.
When I became pregnant with my second, I called Jennifer right away. I knew I wanted her to be my midwife. That pregnancy was more difficult in many ways but Jennifer had the right tools and resources to support me all the way through. Even better was that she knew me and my body and gave me the individualized care and emotional support that I needed. When baby was 10 days late, I got very anxious, but Jennifer was there to talk me down when I needed it and had a ton of helpful suggestions to get labor started. In fact when it finally did happen, it was incredibly fast. Jennifer didn't miss a beat though. She had suspected it would be fast and arrived ready to go. The birth was spectacular! Jennifer took great care of us during and after. Her follow up care was nurturing for both me and baby. She even brought little bedside snacks and once drove to our home at 10 PM to deliver herbs when I was having early signs of mastitis.
Jennifer is truly a special person and any woman would be wise to choose her to support them through the birth process. She has a wealth of knowledge and resources, but more importantly, she can hold space for you and all the joys and challenges you will face during pregnancy, birth, and beyond!
  Isabella
I met Jennifer about 4 years ago at a La Leche League meeting while I was pregnant with my now 3 year old. She was actually taking over as leader for someone else. She was absolutely fantastic. Going to those monthly breastfeeding support groups and meets I believe truly helped me with my breastfeeding experience. She always organized such a nice meet, provided snacks and drinks for everyone and was incredibly down to earth. Going to the meetings helped me connect with other mothers. Hearing their stories and personal experiences was also another thing I didn't realize I'd treasure so much. She was incredible for giving hands on tips and seemed very educated and well adapted to pretty much anything that came her way.
There was a small bump for me in my breastfeeding journey. Here I am sleep deprived and out of my mind. I really tried to reach out to anyone and everyone that I thought could help and she was one of the few that actually helped. She was so sweet! I'm incredibly grateful for all of our encounters we had and looking forward to the next baby because I already know a very important person who is going to help again with that journey!
V.P.
Jennifer has a very sweet and gentle temperament that was always very nice to experience at our appointments. She is very professional, and has great resources to help with making informed decisions (like her own handouts presenting balanced information on newborn procedures, for example). I myself had very strong ideas as to what I wanted and particularly what I did not want, and she was very respectful of that.
She was great at the birth, perfect combination of giving me space and letting her support be felt. I felt very safe with her care. She's a wonderful midwife (and woman) and I wholeheartedly recommend her!